La Quinta Aztecs
T Shirts & Sweatshirts
On sale NOW!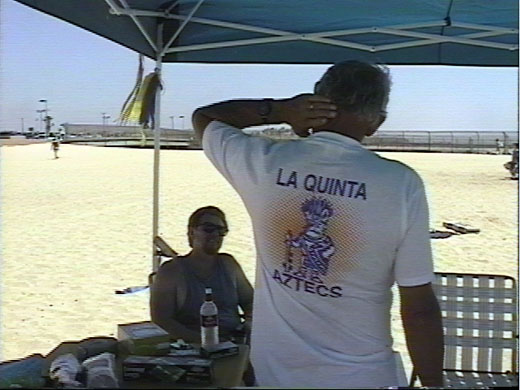 T shirt modeled by Renee's hubby Don Preston
Contact Rene'e Ramos
Credit card orders for the t-shirts can be taken over the phone.
Call my office M-F 9-5
619-561-6407.
Shirt $5.50 for L and XL
XXL or larger is an extra $5.00
All orders are plus shipping. Tax is included in the price of the shirt.


***YOUR NOT GOING TO WANT TO MISS THIS ONE!!!***

ALUMNI SWEATSHIRTS ARE NOW ON SALE!!!
COST: $18.50
AVAILABLE FOR SHIPPING ON SEPTEMBER 27 2000!!!

ORDERS TAKEN OVER THE PHONE WITH A CREDIT CARD OR MAIL A CHECK TO:
RenJen SHIRT SUPPLY CO.
9326 EMERALD GROVE SUITE 2
LAKESIDE, CA 92040-3718
619-561-6407


THE SWEATSHIRT IS A DARK BLUE AND VERY HEAVY.
THE LOGO WILL BE PLACED ON THE FRONT OF THE SWEATSHIRT.
EXTRA LARGE IS THE ONLY SIZE AVAILABLE.
IF YOU WOULD LIKE A LARGER SIZE,
THERE WILL BE AN EXTRA CHARGE OF $5.50


ATTENTION!!
ATTENTION!!
ATTENTION!!

**FOR THOSE OF YOU WHO WOULD LIKE TO ORDER XXL OR LARGER,
IF YOU ORDER BY FRIDAY NIGHT, SEPTEMBER 29TH,
YOU GET THE SAME $18.50 PRICE!!
(my supplier is having a sale!!)
BUT AFTER THAT THE EXTRA $5.50 CHARGE WILL HAVE TO BE ADDED.


**SO ORDER EARLY!!**


ALSO, FOR THOSE OF YOU WANTING TO ORDER EARLY
AND HAVE ME BRING THE SWEATSHIRT TO THE HOMECOMING GAME,
LET ME KNOW!!

OTHER WISE, THE SHIPPING WILL BE $3.50
(Due to the weight of the sweatshirt.)

I WILL BE POSTING A PICTURE OF THE SHIRT AS SOON AS IT IS AVAILABLE.


**REMEMBER, THERE ARE STILL T-SHIRTS AVAILABLE!!!

JUST ORDER ONE ALONG WITH YOUR SWEATSHIRT!!

RENE'E







Family Photo's/Beach Bash 2000/Wedding Day Album